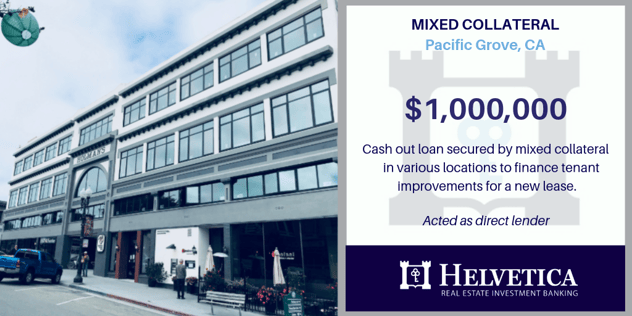 PACIFIC GROVE, CA -

The Helvetica Group, originated a cash out loan secured by mixed collateral including real estate and chattel to enable the borrower to pay for tenant improvements required for a new lease. The collateral included a lien on the ownership interests in a newly renovated building in Pacific Grove that was adapted from an old iconic department store known as the Holman Building, to new luxury ocean view condos. The loan was also secured by ownership interests in an industrial building located in Oakland, CA across from the Colosseum. In addition, the loan was secured by a junior trust deed on an office building in San Diego, CA.
The complex nature of the mixed collateral, the need for a quick close, the lack of income documentation and vacancy, prevented this borrower from obtaining a bank loan.
Bank Turn-down
Mixed collateral
Quick Close
No Prepay Penalty
For Sale
Vacant
Limited Documentation
Alternative Use
Cash Out Loan
Helvetica offers a wide range of loan products for both commercial and investment properties. We provide common sense underwriting and creative financing options for every loan scenario. Contact us today for a quick close without the hassle of traditional bank financing.
About Helvetica
The Helvetica Group is a a real estate investment bank and family office providing innovative private lending, distressed asset acquisitions, brokerage, investment management and family office services. Helvetica aggregates investor capital in pursuit of greater alpha by targeting diligently underwritten, alternative investments secured by real estate assets. Helvetica is a direct lender and invests on behalf of individual investors, trusts, pension plans, retirement funds and institutional investors. We work closely with brokers, bankers, lenders and financial advisors as strategic partners to provide clients with fast access to financing, affording them the opportunity to quickly leverage their real estate assets. The Helvetica Group and its affiliates provide alternative financing secured by a variety of property types including: residential, retail, office, apartments, storage, RV parks, mobile home parks, light industrial, mixed use and other special use properties.