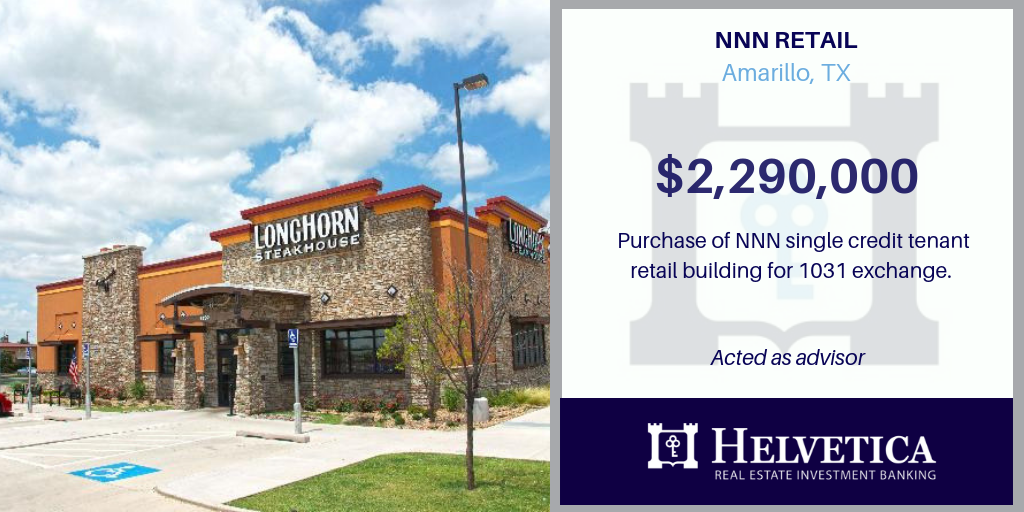 AMARILLO, TX - Helvetica Group identified a $2,291,000 single tenant NNN investment property in Amarillo, Texas for a private investor. The tenant was Longhorn Steakhouse which was on a long term, NNN, corporate guaranteed ground lease providing the investor with a stable, low risk return on their investment. The investor recently sold a multifamily property that required substantial hands-on management: he needed to quickly satisfy a 1031 exchange to defer a substantial tax liability. Helvetica was able to search nationwide to locate a suitable replacement property and organize the due diligence and closing within a short period of time. The investor doubled his income and reduced his management time by almost 100%.
Later, Helvetica arranged to refinance the property with a $900,000 cash out bank loan allowing the investor to purchase an additional property and diversify his holdings.
NNN Property
Stabilized Investment
Low Risk
Ground Lease
1031 Exchange
Permanent Financing
Bank Finance
Diversification
Want a Commercial Real Estate Deal Like This?
Let Helvetica be your partner in identifying unique commercial real estate investments.